01/08/2012 11:37 AM : FOLLOW AFC ON TWITTER
You can now keep up to date with all the 1st team matches and the clubs latest news on twitter.
05/14/2012 08:05 PM : SENIOR PRESENTATION 2012
AFC Dunstable 1st Team, Reserves and Under 18's held their Presentation Night on Saturday 12th May. Below are the pictures of the winners.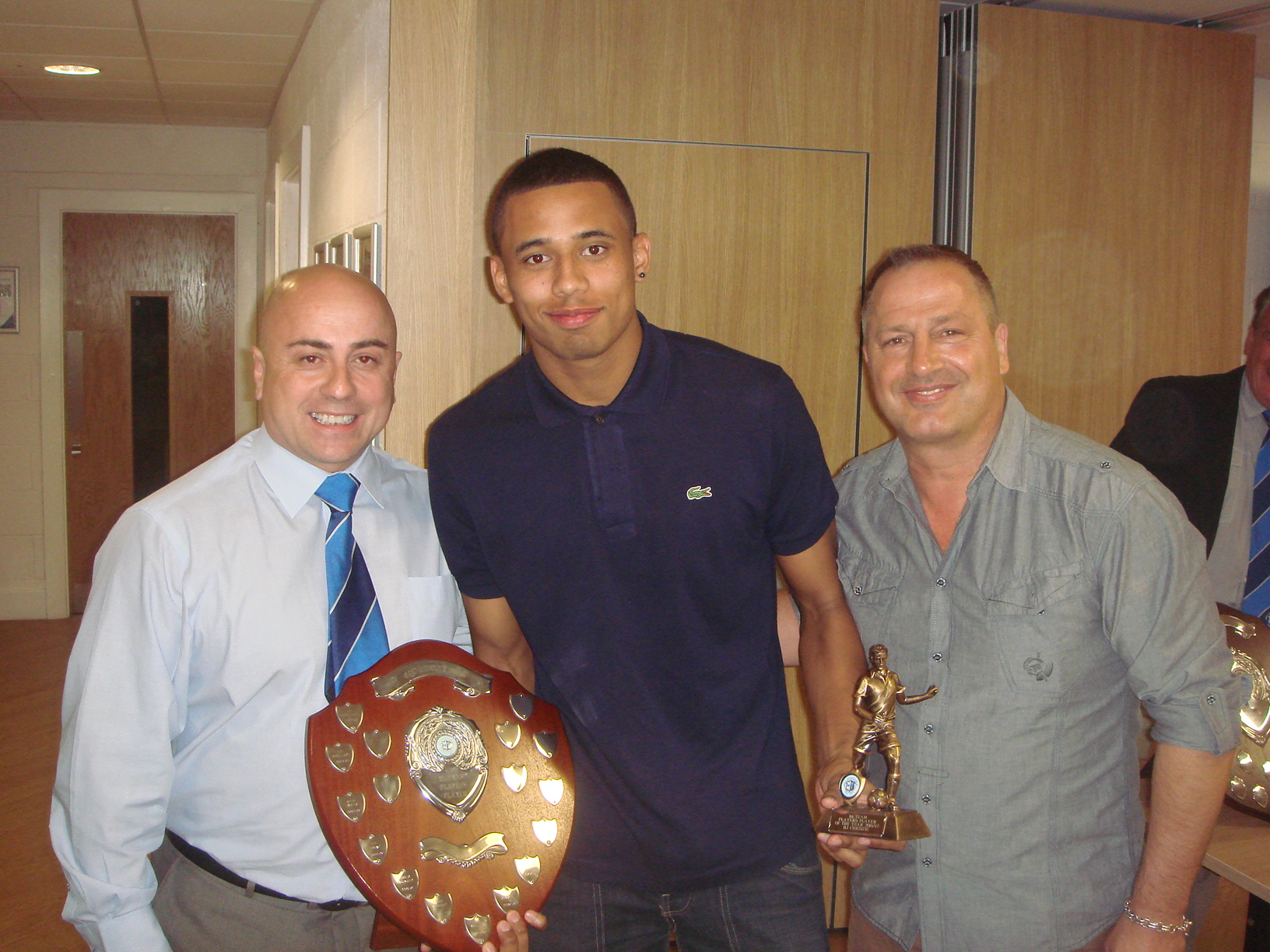 1st Team Players Player - BJ Christie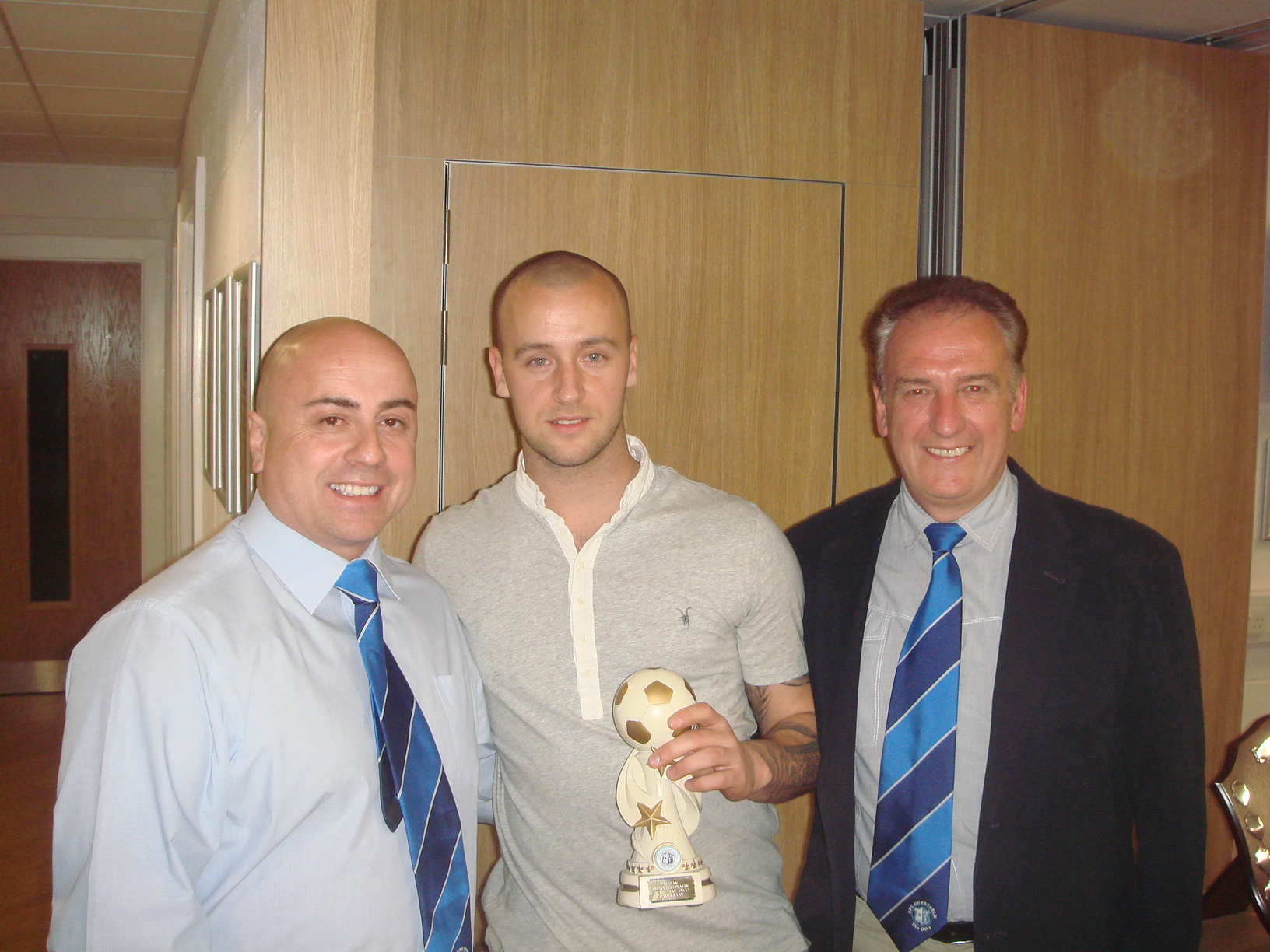 1st Team Managers and Supporters Player - Danny Ryan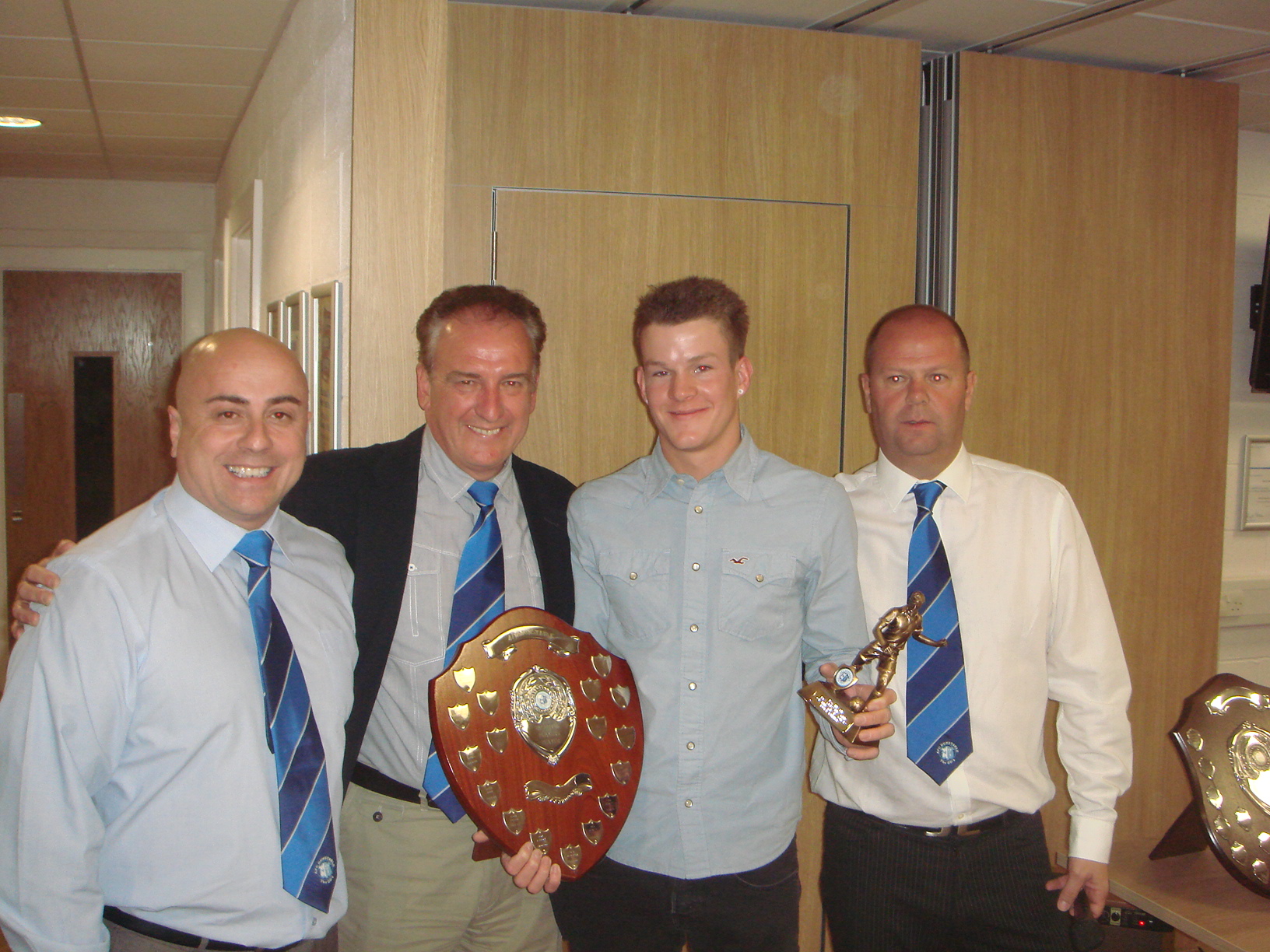 Reserve Team Players Player - Luke Little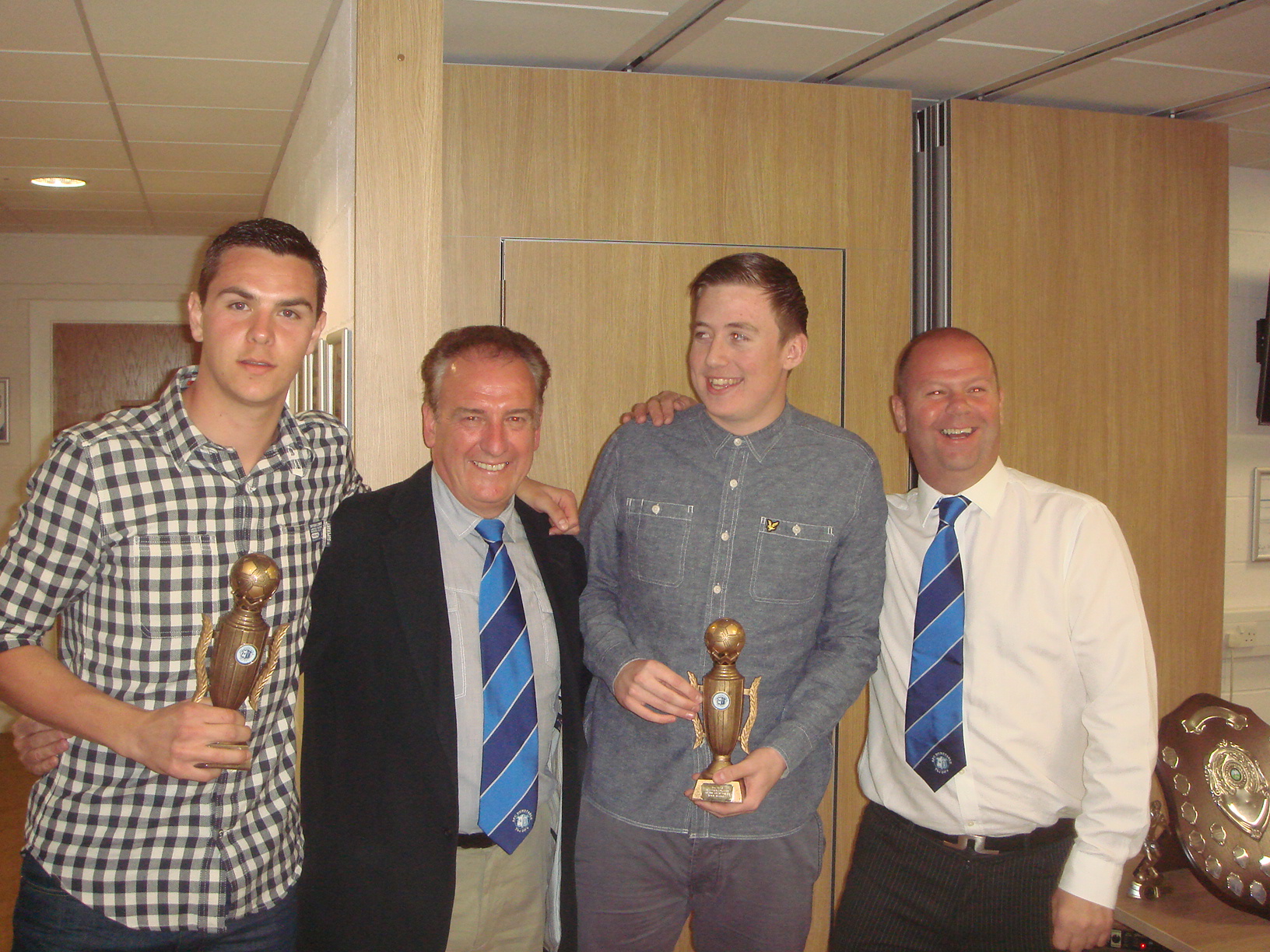 Reserve Team Managers Players - Dan Hewitt and Louis Bowley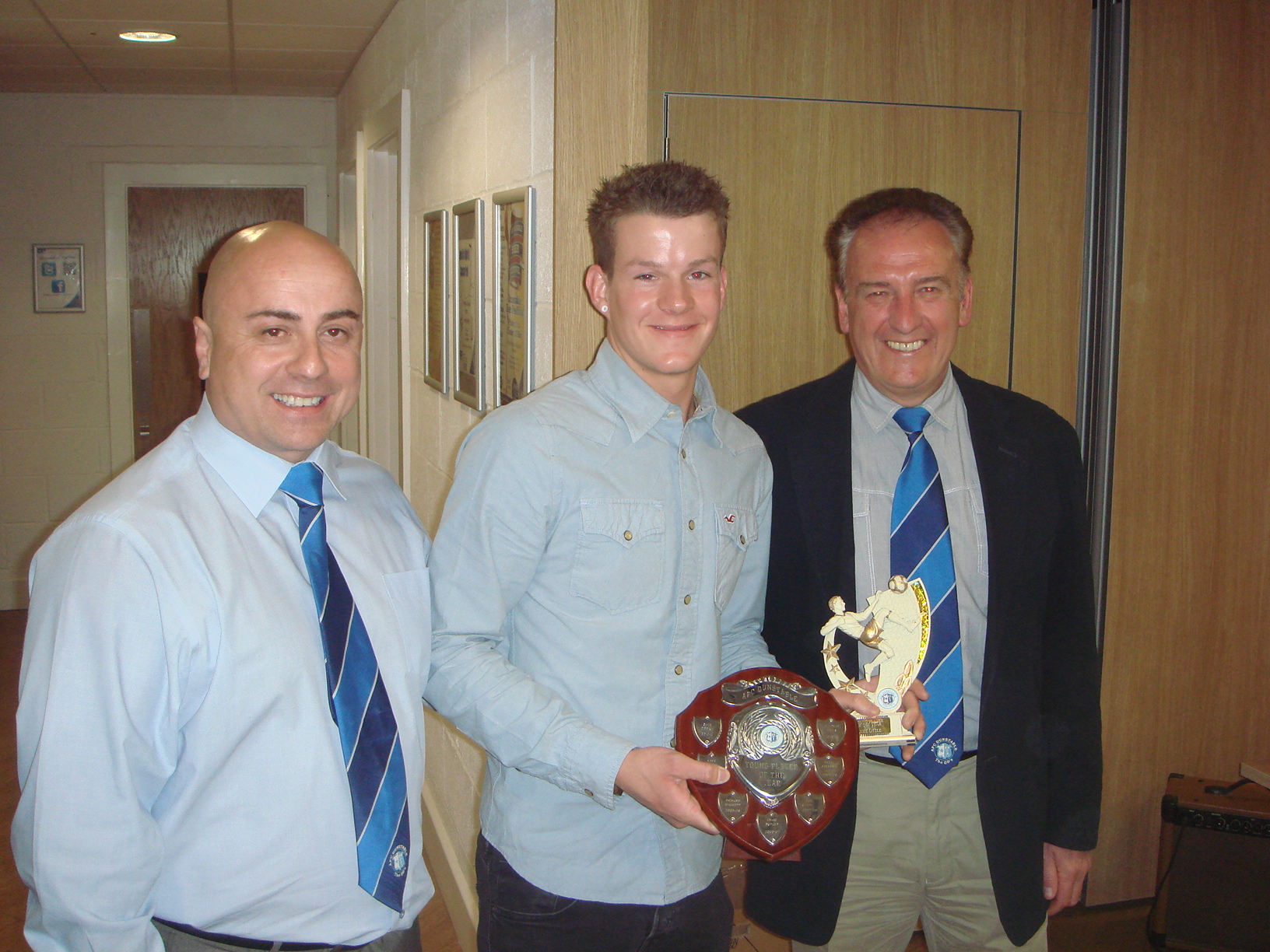 AFC Young Player - Luke Little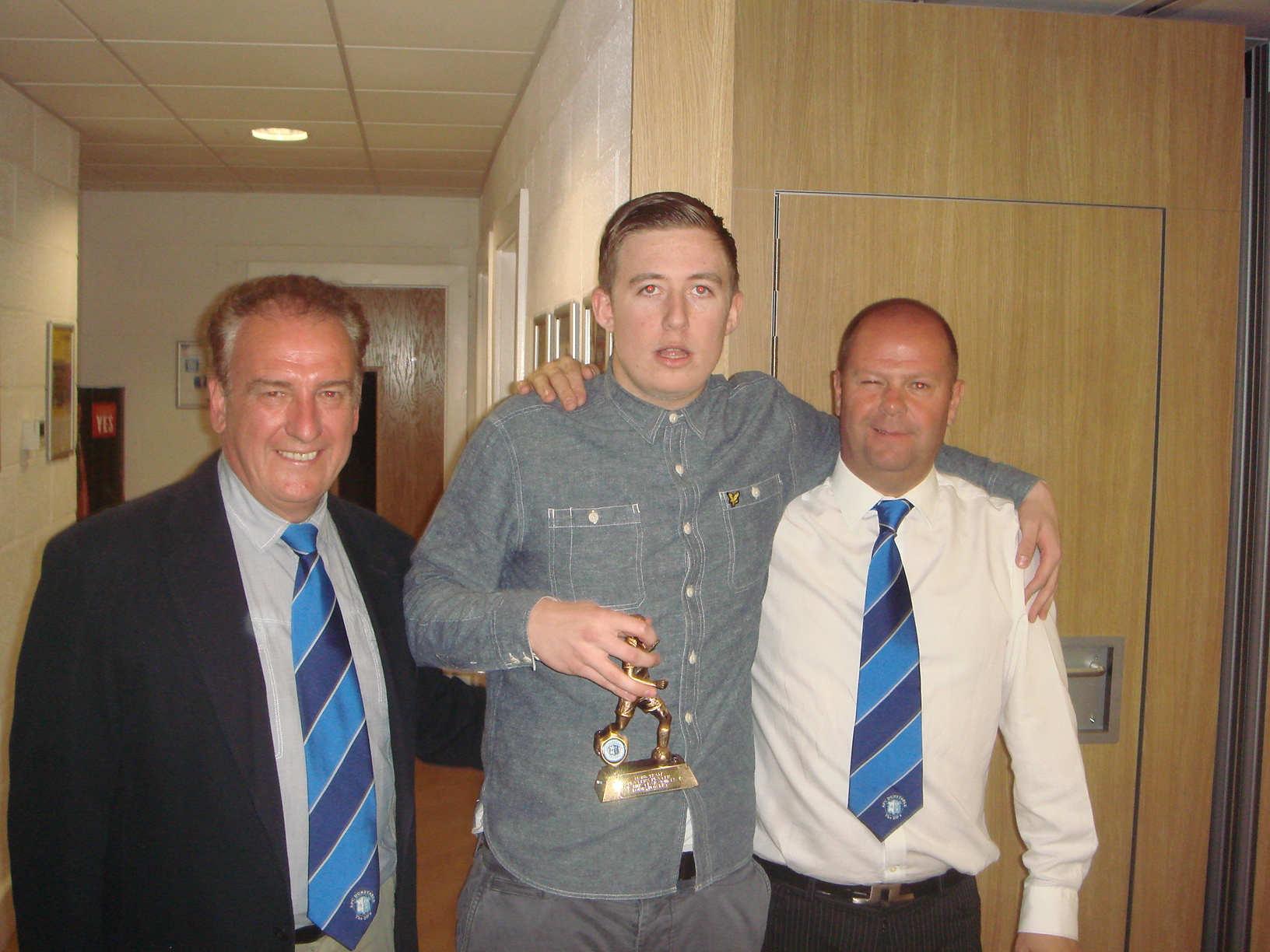 Under 18's Players Player - Louis Bowley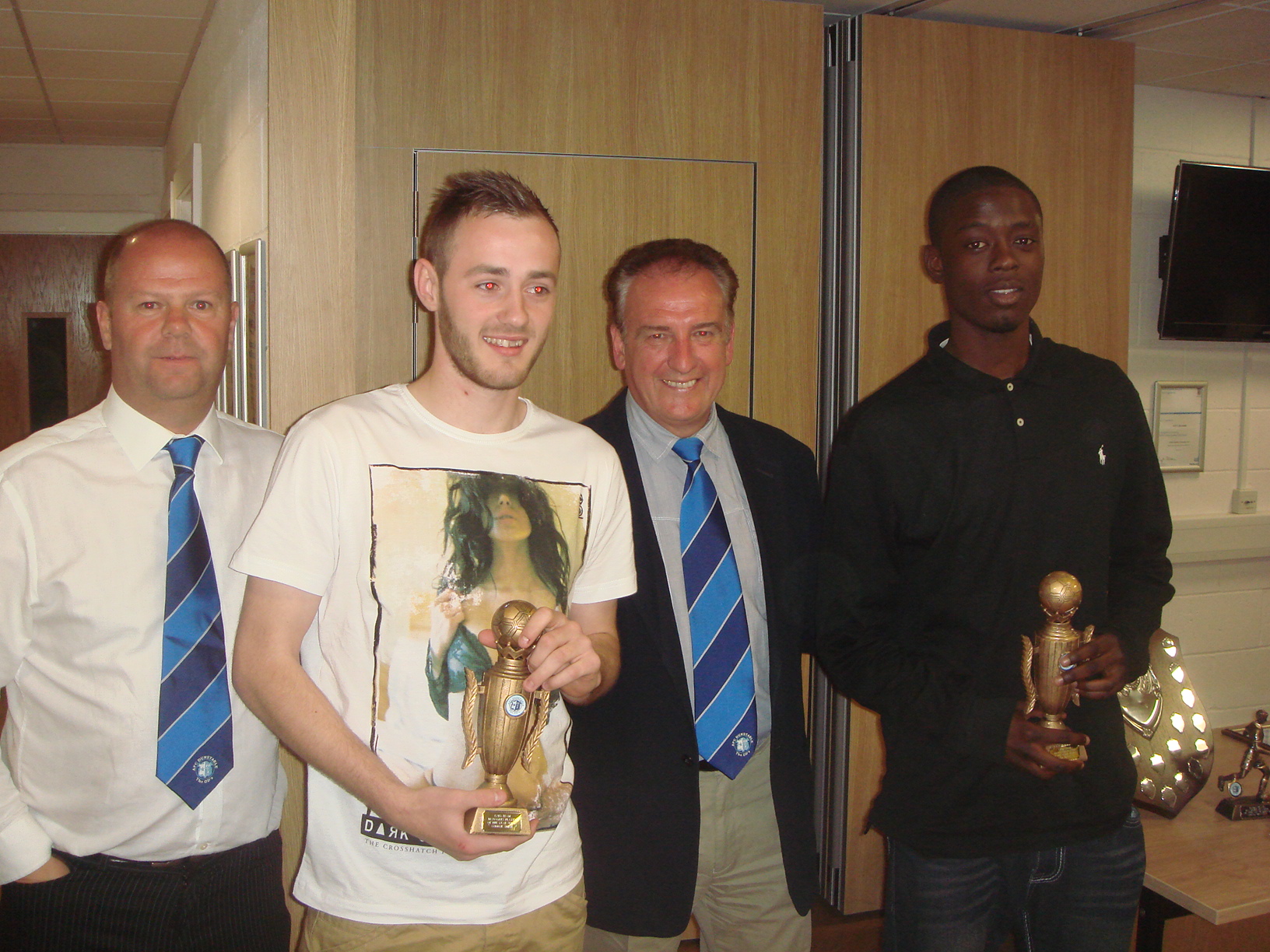 Under 18's Managers Player - Connor Smith and Fasida Baynole
Danny Ryan and BJ Christie with awards
06/17/2012 10:11 AM : YOUTH PRESENTATION 2012
The club held its Youth Presentation and once again it was a roaring success with over 350 people in attendance.
On hand to give out the trophies once again was the club captain James Baldry and 1st team top goalscorer BJ Christie and the club would like to thank them for giving up their Saturday to be there.
Over 60 trophies were handed out to all the players, which included Players Player, Managers Player, Supporters Players, Appearances Awards and various League Trophies.
The committee would like to thank everyone who helped out on the day and without them the day would have not been a success.
Click on the Picture Gallery page for all the photo's. Then click on each individual photo to enlarge.
06/23/2012 05:22 PM : HONOURS BOARD
AFC Dunstable youth teams once again had a succesful and fantastic season.
07/11/2012 08:49 AM : NEW 1ST TEAM KIT SPONSOR
AFC DUNSTABLE SECURE A 2 YEAR KIT DEAL
AFC Dunstable are delighted to announce a 2 year kit sponsorship deal with ECL Civil Engineering Ltd.
ECL Civil Engineering is a local company based in Luton and a lot of their business is carried out in the local community. They will sponsor the 1st Team kit for the next 2 seasons. ECL Managing Director Sean Hoare commented " I always like to support local clubs and did back AFC 4 seasons ago. The way they have grown since then is nothing short of remarkable and all the coverage I have noticed in the Dunstable Gazette relit my interest in them. I believe for the coming season they will be fielding 30 teams which is fantastic and I am so proud to support a club that goes the extra mile"
AFC Chairman Simon Bullard said " It is so great to have ECL backing our club again. With the amount of work we put into the local football community, it is so satisfying to see our efforts are being rewarded and I personally would like to thank Sean for his support and hope we can move forward together in the future"
1st Team Manager Alex Butler with ECL Managing Director Sean Hoare
07/18/2012 05:05 PM : NEW SPONSORSHIP DEALS
AFC Dunstable have announced their kit sponsorship deals for 2012-13.
07/22/2012 10:01 AM : THE DAVID PREECE TROPHY
Saturday 21st July
AFC Dunstable 1 Luton Town 7
In the inaugural playing for the David Preece Memorial Trophy, the Hatters blitzed the first half as they hit 6 without reply. In front of a crowd of 1109, AFC saw the management team test out some new faces with Michael Moss and Steve Hawes. Luton fielded a very strong side in the 1st half and it showed when they took the lead after only 2 minutes through skipper Greg Taylor. It was soon 2-0 when local boy Adam Watkins fired home. The goals kept coming as AFC saw the possibilty of conceding double figures. Further goals from Andre Gray (2), Alex Lawless and Dan Walker completed the rout in the 1st half.
Luton made some changes in the 2nd half and probably took their foot off the gas and AFC slowly started to compete a bit better. A big cheer went up for AFC when BJ Christie pulled a goal back on 50 minutes. Was it time to change the orange ribbons on the trrophy to blue, sadly no, as Stuart Fleetwood made it 7. The rest of the game was played out as AFC were thankful they drew the 2nd half 1-1. The gulf of 4 steps in the national league system was on full view today but AFC would not have had it any other way and thankyou to Paul Buckle for bringing over a strong team for the game.
The match was sponsored by Priority Print and AFC Dunstable thank their MD Andy Lomas. AFC also hope that the directors of Luton enjoyed their day. The players of Luton signed a ball and it was presented to Andy below.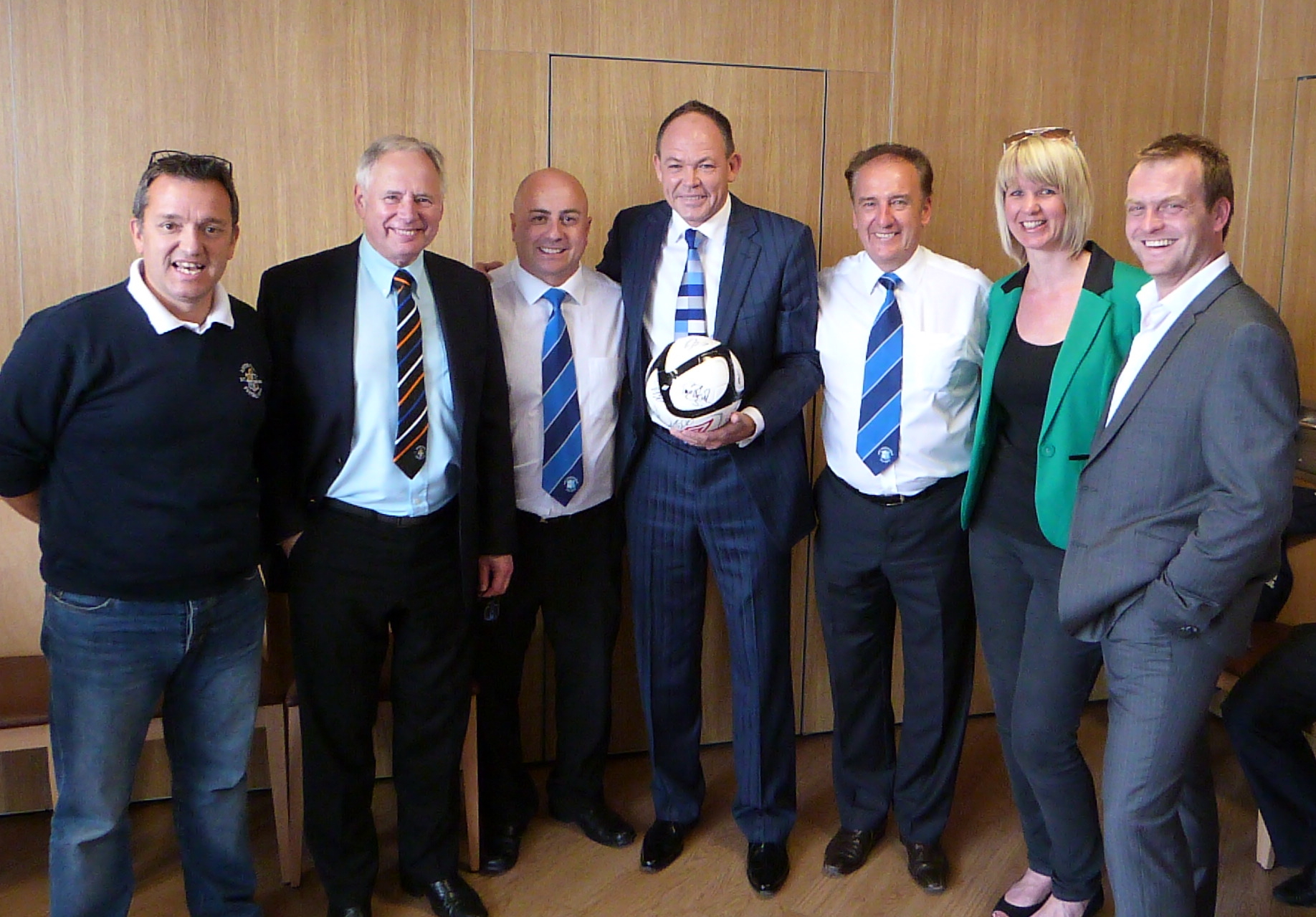 Left to right: Gary Sweet (LTFC Director): Nick Owen (LTFC Chairman): Simon Bullard (AFCD Chairman): Andy Lomas (Sponsor): David Lawlor (AFCD Vice Chairman): Phillipa Titmuss & Stuart Moodie (Sponsors guests)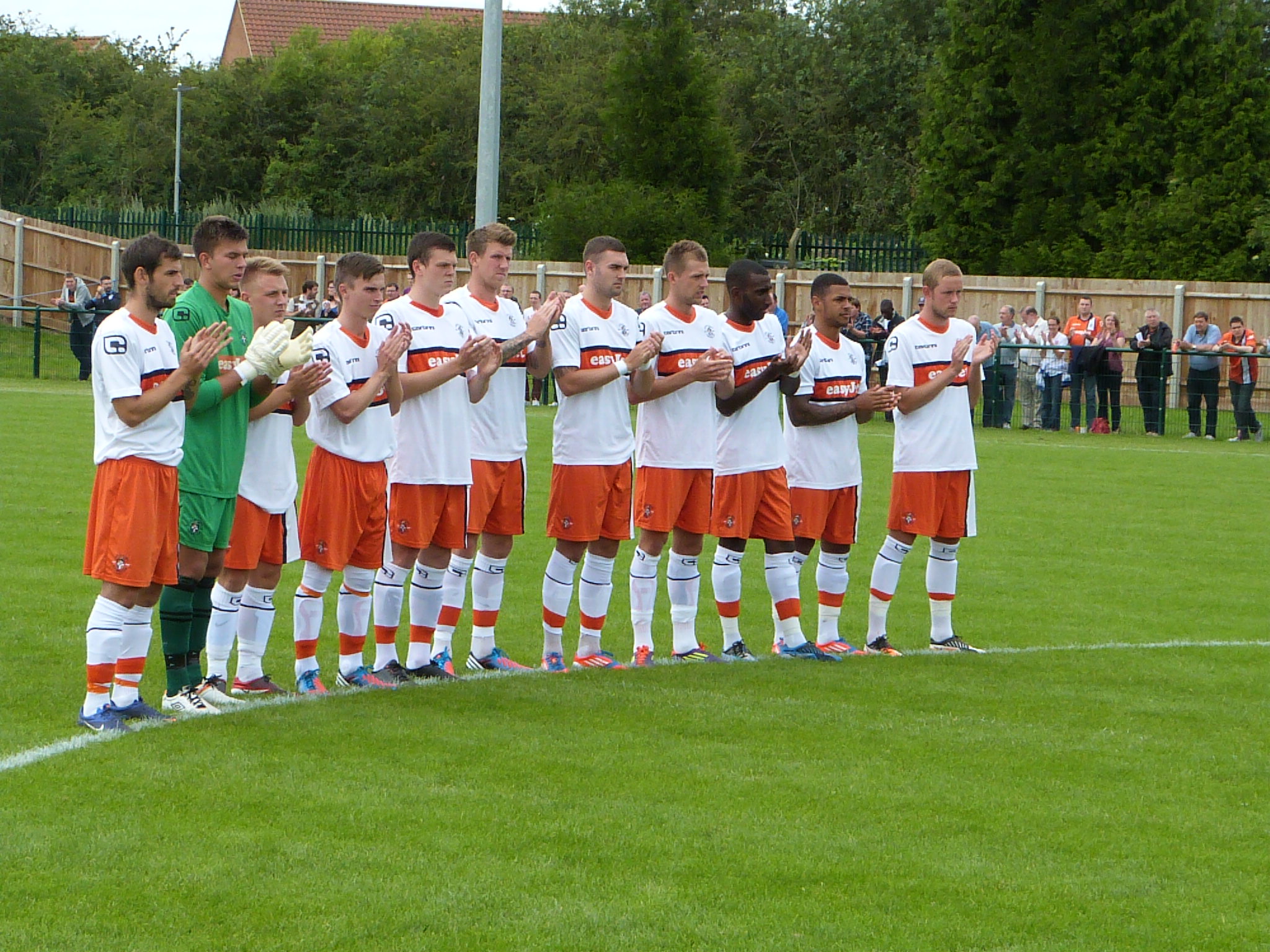 Minutes applause for David Preece from Luton Town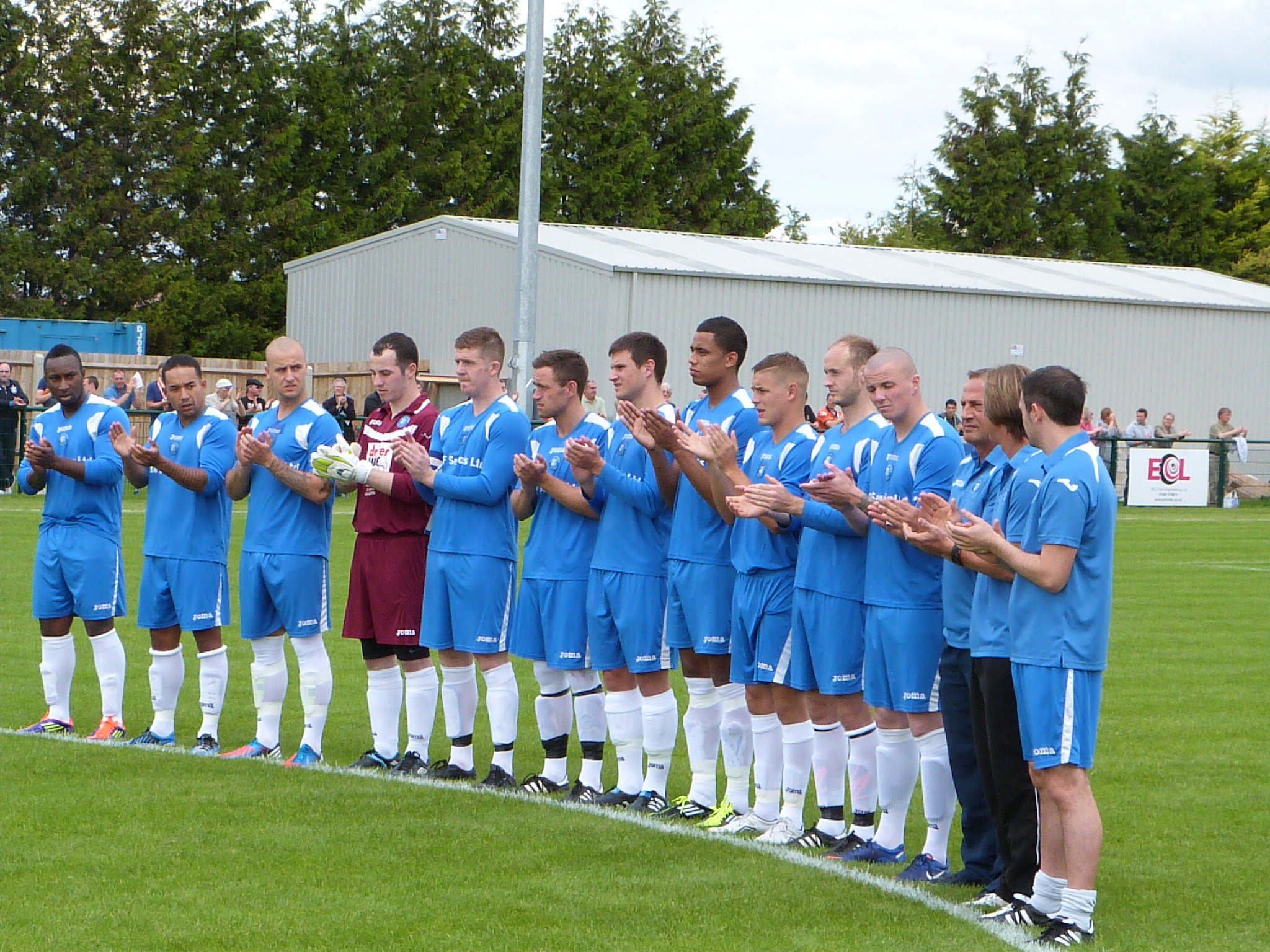 AFC Dunstable join in applause
Andy Lomas presents the Trophy to Greg Taylor
06/12/2013 08:20 AM : MAYORAL RECEPTION
AFC Dunstable Ladies team will be attending a mayoral civic reception to honour their fantastic achievement of being unbeaten throughout their league campaign.
Playing 18 games, they won 11 and drew 5 winning the league by 5 points from Stevenage Borough.
With the championship in the bag, the ladies will be taking up the challenge in the Eastern Region Womens League for 2013-14.
06/14/2013 09:59 PM : SEASON 2013-14
AFC Dunstable go into the 2013-14 season with 33 teams, the same as last season.
There has been a couple of changes though. We will be going into the season with 2 ladies teams, the Under 11 Reds have merged with the other Under 11 teams and we welcome a new Under 10 team.
All in all we will have 27 youth teams covering every age group possible, 2 disability teams, 2 ladies teams, the reserves and 1st Team.
We wish all our teams a enjoyable and hopefully a succesful season.
06/21/2013 09:22 AM : AFC DUNSTABLE AGM
AFC DUNSTABLE 32nd ANNUAL GENERAL MEETING
SATURDAY 6TH JULY 2013 AT 10.30AM
07/21/2013 05:33 PM : FA COMPETITIONS
The draws for the FA Cup, FA Vase and FA Youth Cup have been made.
The 1st team enter the FA Cup at the Extra Preliminary Round on August 17th with a tough trip to fellow SSMFL Premier Division rivals Berkhamsted. We have never registered a point against the Comrades at Broadwater in league meetings over the past 3 seasons. If we do progress then its a home tie against Harefield United or Woodford United.
The FA Vase see's the 1st Team have a glamour tie against AFC Rushden and Diamonds. We host the former Football League club on the 7th September. The current club is the result of a re- incarnation of Rushden and Diamonds, who of course went bust a couple of seasons back. Hoddesdon Town await the winners.
Our Under 18's also face a team from Rushden in the FA Youth Cup. They entertain Rushden and Higham United in the week commencing the 23rd September.
Our Ladies Blues team await their fate in the FA Womens Cup which is yet to be drawn.
09/15/2013 12:36 PM : AFC NEW KIT
After 4 seasons wearing Joma kits, the club have now gone over to Errea.
Errea is a very well known brand and worn by many professional clubs. It has the flair that is associated with Italian designers.
The reason for the change, is that we can now order kits from a local supplier.
The kit can be seen on our Under 13 Girls Team
11/08/2013 07:50 AM : NEW 1ST TEAM MANAGER
AFC Dunstable are delighted to announce that they have appointed Steve Heath as there new 1st Team Manager.
After the departure of Alex Butler, the club decided to not rush into a hasty decision and interviewed 4 candidates for the position.
They found Steve had everything they were looking for and their paths have crossed in the past, so he was known to the club.
Steve has a wealth of Spartan South Midlands experience with Kings Langley and latterly with Leverstock Green.
His CV is impressive reading, as he has gained 2 promotions with Kings Langley and winning many cups.
With Leverstock Green he took them to 4th position in the Premier Division in 2010/11 and the last 16 in the FA Vase. He also won the West Herts Charity Cup with Leverstock Green.
He also meets all the coaching credentials the club insist on being a FA Charter Community Club. He is currently a Level 2 coach and is working his way to a UEFA B.
Chairman Simon Bullard said " Steve will be a great appointment for the club, as he also takes an interest in youth football, which has been missing in the past. We will give him all the support he needs"
Steve will take charge of team on Saturday when Holmer Green visit Creasey Park this Saturday.
12/02/2013 07:50 AM : STATEMENT FROM STEVE HEATH
I firstly would like to start by saying how much I am looking forward to the challenge of being the new manager of AFC Dunstable.
The reason I wanted to take this position is because it is a different challenge than I have had in my previous managerial roles. When you are taking over from a management team, that has been successful over the last 8 years with their achievements, and the football they have played, the loyalty they have rightly deserved from the players and supporters it is never going to be easy.
After discussions with Simon the chairman and the other committee members I could sense their enthusiasm and commitment for the club, and this is something very important to me to be able to take them forward in the right direction.

From a personal point of view, I think the timing is very good to take over, I feel that I have enough time this season to have a look at some of the younger players and hopefully keep the better more experienced players and not be under pressure to get results. The club is in a stable position in the league and I feel this time is all about building the foundations for next season.

My long term plans are to build strong links between the youth, reserve and first team, then try to get the first team in a position where they are competing to get to the next level in the future.
Hopefully you all will realise, that we are going to need a little bit of patience this season to get to where we want to be next season.
I will work as hard as I can to push things forward and to try and achieve these goals as soon as I can.


Steve Heath.

12/24/2013 05:31 PM : DISABILITY TEAM CHAMPIONS
AFC Dunstable Disability secured the Bedfordshire FA Division One title.
01/11/2014 09:21 PM : 10th NEW SIGNING
Since being appointed 1st Team manager, Steve Heath has completed his 10th new signing.
Signings with a wealth of Premier Divison experience have been Bekim Culaj and Ben Butler from Berkhamsted. Max Farelly has joined from Southern League Aylesbury FC. Dennis Fennemore who has been at Hemel Hempstead Town and Banbury United has also joined AFC.

A marque signing has been Matt Langston in a player/coach role. His list of clubs make impressive reading. Conference Premier clubs Histon, Kettering and Crawley Town are on his CV. He has also played for Eastbourne Borough.
At Histon he scored the winning goal against Leeds United in the FA Cup back in 2008.

One's for the future are Lee Stobbs, Tyler Smith, Kane Axten, Adrian Pitfield and Joel Williams.
Also making a return since the mass exodus has been club captain James Baldry, who scored 2 goals for the reserves on Saturday.

He also shown his stern side, by releasing a player who did not conform.
Steve still has his feelers out there for more potential signings.

With team now taking shape, Steve is hopeful that his first win will come soon, as they take on Cockfosters this coming Saturday at Creasey Park.
01/24/2014 08:34 AM : TOURNAMENT 2014
AFC Dunstable's Tournament will be held on Saturday 31st May and Sunday 1st June 2014 at Creasey Park, the home of AFC Dunstable.
05/12/2014 08:21 AM : PRESENTATION 2014
Below are the individual awards for each of our youth teams.
Photo's of the day can be viewed by clicking the link below.
| | | | |
| --- | --- | --- | --- |
| TEAM | PLAYERS PLAYER | MANAGERS PLAYER | SUPPORTERS PLAYERS |
| UNDER 7 WHITES | N/A | N/A | N/A |
| UNDER 7 BLUES | N/A | N/A | N/A |
| UNDER 8 SUNDAY | EUAN PLAMER | ANTONY BRETT | HARRY DUNFORD |
| UNDER 8 BLUES SATURDAY | CHRISTIANO PLETERSKY | IEUAN POULTON | REECE SMART |
| UNDER 8 WHITES SATURAY | HARRISON WELLS | LUCAS FISHER | LOUIE NEWMAN |
| UNDER 9 BLUES SUNDAY | MORGAN COOK | BEN HENDRY | CADE EWINGTON |
| UNDER 9 WHITES SUNDAY | DYLAN CHAPPELL | CHARLIE FINN | JAKE CLARKE |
| UNDER 9 SATURDAY | PAUL WAVINGANA | JOSEPH DIAMOND | HARRY SAINT |
| UNDER 10 GIRLS | N/A | N/A | N/A |
| UNDER 10 SATURDAY | ETHAN FLENLEY | ETHAN FLENLEY | KYLE GRAY |
| UNDER 10 SUNDAY BLUES | ALEC BALDWIN | HARVEY LAVER | LEWIS BURGESS |
| UNDER 10 SUNDAY WHITES | JADEN BIRD | SAMUEL LANE | LOUIE PARRISH |
| UNDER 11 BLUES SATURDAY | KIAN WILKES | CHARLIE LOVER | TARIQ FOSTER |
| UNDER 11 WHITES SATURDAY | JAKE PROCTOR | SPENCER WARD | BLAKE COX |
| UNDER 11 YELLOWS SATURDAY | CAMERON SMITH | FILIP POKORNY | JAMES ARMSTRONG |
| UNDER 11 SUNDAY | NICK HENSON | JOSH FLANAGAN | KIAN WILKES |
| UNDER 12 BLUES SUNDAY | DAVID ILUGBO | LOUIE POWER | BRADLEY VALENTINE |
| UNDER 12 WHITES SUNDAY | FINLAY BRENNAN | FINLAY BRENNAN | FINLAY BRENNAN |
| GIRLS UNDER 12 | EMMA DANCER | LAUREN CARRICK | MADALAINE REMMINGTON |
| UNDER 13 SUNDAY | CHARLIE PARKER | GEORGE PIEKARCZYK | TOM DEAN |
| GIRLS UNDER 13 | SHAUNA TEBBUTT | MOLLY McCLELLAND | CARA HORGAN |
| UNDER 14 BLUES SUNDAY | CALLUM HIRST | SAM PERRY | TOM BARBATO |
| UNDER 14 WHITES SUNDAY | RYAN MORLEY | TOMMY WEST | AARON COOPER |
| UNDER 15 BLUES SUNDAY | NATHAN KIRWAN | NATHAN KIRWAN | NATHAN KIRWAN |
| UNDER 15 WHITES SUNDAY | MICHAEL SHREWSBURY | HARRY CROFT | HARRY CROFT |
| UNDER 16 BLUES SUNDAY | GEORGE HINDLEY | NICK BALLINGER | GEORGE HINDLEY |
06/30/2014 08:00 AM : UNDER 18 TRIAL NIGHT
The club will be holding an Under 18 trial night at Creasey Park on Wednesday 16th Julyn 2014.
2014, Jun, 30

2014, May, 12

2014, Jan, 24

2014, Jan, 11

2013, Dec, 24

2013, Dec, 02

2013, Nov, 08

2013, Sep, 15

2013, Jul, 21

2013, Jun, 21

2013, Jun, 14

2013, Jun, 12

2012, Jul, 22

2012, Jul, 18

2012, Jul, 11

2012, Jun, 23

2012, Jun, 17

2012, May, 14

2012, Jan, 08